The Nintendo Switch launched all the way back in 2017 to rapturous applause. While the Wii U had been somewhat ill-received due to its clunky controller (with pretty poor battery life to boot), the Switch felt like a realisation of all the tantalising ideas the Wii U had pioneered. After all, it's a hybrid console that can be played either on the TV or in your hands, and you can just slot the console into its dock when you want to switch modes. It's effortless, intuitive, and fun to use.
However, there's at least one thing the Nintendo Switch emphatically is not, and that's immortal. We don't mean any disrespect to the Switch here; it's a great little console, and we're sure it's got some life in it yet. However, no console can live forever, and eventually, Nintendo will need to start thinking about what it wants to do for a hypothetical followup. We thought now, therefore, would be a good time to take a look at the rumours surrounding the Nintendo Switch 2, as well as offering our own predictions.
The Switch 2 is likely several years away
Let's start with the most disappointing confirmation: the Switch 2 is still some years away. Nintendo has recently stated that it believes the Switch is about halfway through its life cycle, which indicates that the console still has around five years left before Nintendo thinks about releasing a successor. As such, if you were hoping for a Switch 2 in the next few years, then it looks like you're going to be disappointed. Barring a sudden plummet in Switch sales, which isn't likely given the current commercial performance of the machine, the Switch 2 is far from imminent, it seems.
So when is the Switch 2 release date?
Unfortunately, we just don't know when we're likely to get a Switch 2, nor when we'll even get our first glimpse at what Nintendo is intending for the console. Given that Nintendo says it thinks the Switch is about halfway through its cycle, that means we can't expect a Switch 2 announcement until late 2026 at the earliest. That would put the Switch 2 on track to launch in 2027, which would mean it would arrive exactly ten years after its predecessor. In keeping with Nintendo's thoughts on the matter, this would also make the Switch one of the Japanese company's longest-lived consoles.
Will there be a Switch 1.5 in the meantime?
Some might say that the Switch 1.5 has already launched in the form of the 2021 OLED model, which added a brighter and larger screen to the console and made a number of other hardware improvements. However, it's important to note that the OLED Switch model hasn't actually changed any of the console's internals; it still has the same level of power that the original Switch did back in 2017. As such, we're waiting for an announcement for a Switch that could potentially handle upscaling content to 4K, which Bloomberg suggested could be on the way soon in a report from late 2021.
What about a Switch Pro?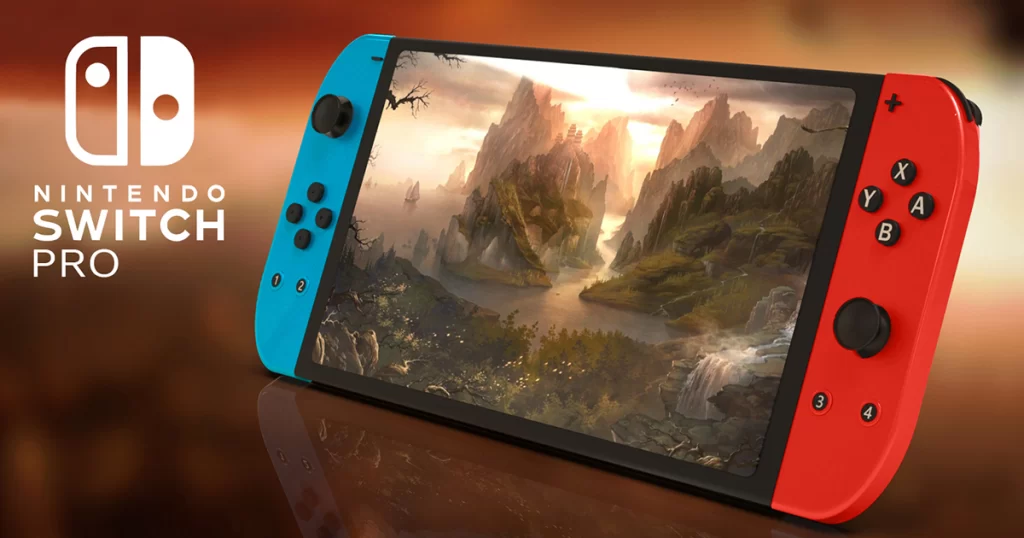 There are some suggestions that a Switch Pro might be in the works as well. The OLED Switch's dock uses a chip that technically supports 4K at 60fps, although in practice, it's unlikely many Switch games would actually support that given its power. There have also been leaks that suggest a Switch Pro is on the way with enhanced graphics, although as ever, you should take these with a pinch of salt. It does make sense, though; the Switch's power has been a point of contention, with many saying it's just not beefy enough to get the job done when it comes to modern gaming.
What will the Switch 2 look like when it launches?
Without anything to go on, we just don't know what a potential Switch 2 could look like. However, we certainly do have our own wish list for the kind of features we'd like to see Nintendo implement. Here are just a few things we want to see the Switch 2 pick up when it does eventually launch.
More power. The Switch is, to put it mildly, a fairly underpowered console. Games like The Witcher 3 and Wolfenstein: The New Order might run on it, but they do so with heavy technical and graphical compromises. We want to see a more powerful machine next time, please, Nintendo.
A better UI. There's nothing inherently wrong with the Switch's UI; it gets the job done. Still, we miss the bouncy, bubbly feel of the Wii and DS user interfaces, and the Switch also needs support for features like themes and custom elements, which it doesn't currently have.
Improved battery. The Switch doesn't last too long right now before it starts to falter in the battery department. Happily, this isn't an issue in docked mode, and you can play the console while you charge, but an extended battery life – even beyond the recent refresh – would be appreciated.
Better controllers. The Joy-Con controllers are great, and we love how modular they are. However, they're also very prone to stick drift, and they don't feel great to use on their side as individual controllers. We want to see better premium controller options for the Switch 2.
More storage. This is a serious sticking point for a console that has a huge digital library. The Switch's paltry 32GB (64GB if you're playing on OLED) storage space just doesn't cut it in the modern gaming world, so we want to see Nintendo expand this with more internal storage. The console should also keep the ability to expand storage with microSD.