For many years, the WWE has held a dominant position in people's hearts and minds when it comes to professional wrestling. In recent years, however, other promotions like Total Nonstop Action (TNA) have sprung up, as well as AEW, to which many famous wrestlers from WWE's hall of fame have flocked. Wrestlers like Chris Jericho, Cody Rhodes, and CM Punk have made the transition to AEW, arguably making it the WWE's most star-studded competitor.
With that in mind, a video game based on AEW was almost an inevitability, and indeed, one such game was announced last year. AEW: Fight Forever is on its way sometime this year, and it'll boast all of your favourite wrestlers from the promotion, as well as a huge range of different match types and other features. It's being worked on by Yuke's, the creators of the SmackDown! series, so you know there's a pedigree behind it. Here's what we know about AEW: Fight Forever right now.
AEW: Fight Forever release date – when is the game coming out?
The AEW: Fight Forever release date is currently shrouded in mystery. As with many upcoming titles, the game's release date is simply listed as "coming soon" right now – we're really not sure when it'll arrive. Hopefully, we'll be able to get our hands on AEW: Fight Forever sometime this year, but since we don't have a date yet, it's impossible to state right now.
We do have a potential idea of why the release date might be in flux, though. Fansite Wrestle Zone, which cites a "source close to the situation", says the release date hasn't been announced yet because of the ESRB; the ratings board didn't give the developers and the promotion the rating they were hoping for, so the game has been temporarily delayed in order to change things around so the desired rating can be achieved. Again, this is hearsay, and we don't know exactly what's being changed, so watch this space.
AEW: Fight Forever platforms – where can you play the game?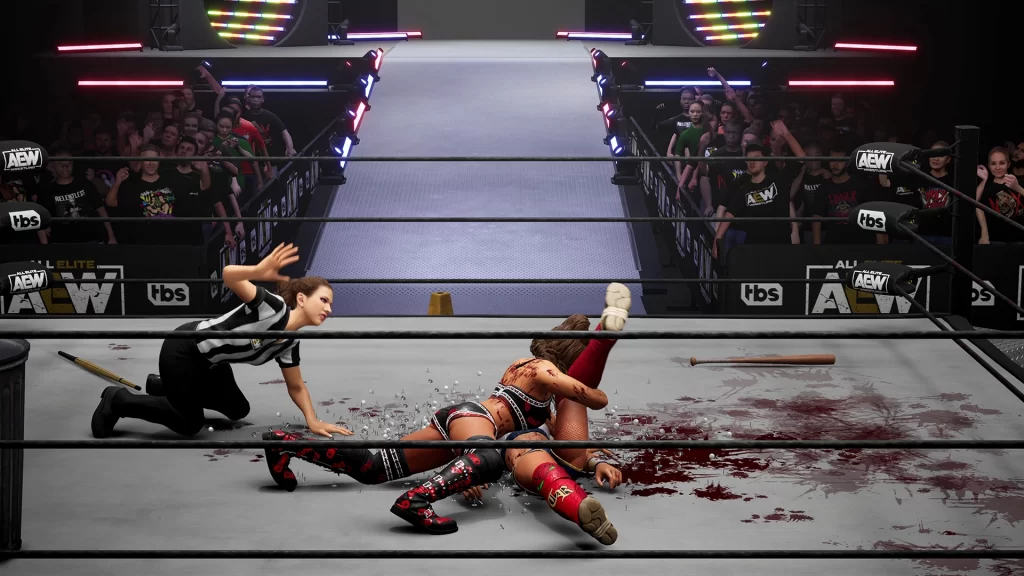 Naturally, since no release date has yet been announced for AEW: Fight Forever, you can't actually play it anywhere just yet. However, when the game does get released, it'll be available for PC, as well as PlayStation and Xbox. A version of the game is also headed to Nintendo Switch, although what kind of graphical or performance compromises it might need to make in order to run on Nintendo's relatively underpowered machine isn't clear just yet.
AEW: Fight Forever features – what will the game offer to wrestling fans?
Being a rival to the WWE 2K series created by former WWE stewards Yuke's, you can expect something akin to classic wrestling titles like WWF No Mercy and WWF SmackDown!. If you're not a fan of the more simulation-style gameplay offered by WWE 2K, then it sounds like AEW: Fight Forever will be much more your speed. Here are some of the features you can expect from Yuke's and THQ Nordic when this one does eventually release.
Nostalgic wrestling action.

The game's

Steam page

says that it will offer "nostalgic arcade wrestling" combined with innovative AEW-style finishing moves and offensive manoeuvres. It

sounds like

Fight Forever

is aiming more for the N64 glory of

No Mercy

than it is for the PS1 and PS2

SmackDown!

games, so if that's your jam, this is where you should apply.
Huge roster.

If you've been wondering where some of your favourite wrestlers went after they left the WWE, then the chances are you might well find them here. Icon Chris Jericho will be playable, alongside other legends like Sting and Samoa Joe. You might also recognise Matt and Jeff Hardy, as well as CM Punk, Mark Henry, and plenty of others. Suffice it to say that there's a veritable who's-who of great wrestling talent on display in AEW.
Lots of match types.

AEW and Yuke's are promising lots of different match types, including classic single and tag-team matches, as well as ladders, falls count anywhere matches, "exploding barbed wire death" matches (who doesn't love those?), and plenty more. If you were worried that this game wouldn't espouse the same over-the-top feeling as WWE games do, then it sounds like you don't need to worry.
Online play.

Of course, this wouldn't be a wrestling game if it didn't offer online play, and you'll be able to play co-op multiplayer online, as well as playing against others for wrestling dominance.
Tag team manoeuvres.

When you're playing tag matches, you'll be able to engage in a range of different moves and manoeuvres with your tag team partner using what Yuke's calls "simple commands".
A deep career mode.

A career mode is extremely important for a great wrestling game; it's how you get the same sense of drama and development that the actual wrestling promotion features. Luckily,

AEW: Fight Forever

is promising to have just such a career mode on offer for you.
Lots of customisation.

Just like the career mode, customisation is critical to a great wrestling game, and

AEW: Fight Forever

will let you change wrestlers' appearance, attire, move sets, entrances, and lots more.

Lots of weapons and minigames.

There will be over 40 weapons on offer to use against your opponents, as well as minigames to take part in. You can also look forward to daily and weekly challenges to keep you engaged in

AEW: Fight Forever

.