April is traditionally a pretty big month for movies. Many of the biggest tentpole blockbusters, including huge offerings from Marvel, Warner Bros, and other huge studios, tend to launch in April or early May, and April is often seen as the month that kicks off the summer blockbuster season. As you can probably imagine, 2023 is no different; there are some pretty big movies launching in April, including one massive videogame adaptation and an entry into a major horror franchise. Let's take a look at the best movies releasing in April 2023.
Air (dir. Ben Affleck, April 5th)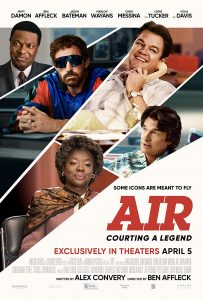 Ben Affleck and Matt Damon are reunited for this sports drama, which revolves around the creation of the Air Jordan shoe. The movie will star Matt Damon as marketing exec Sonny Vaccaro, with Affleck in a supporting role as Nike co-founder Phil Knight. Other members of the cast include Jason Bateman, Viola Davis, and Marlon Wayans, with supporting turns from Chris Tucker, Chris Messina, and more. Affleck's directorial efforts are usually pretty interesting to watch, and this one promises to be no exception.
The Super Mario Bros. Movie (dirs. Aaron Horvath and Michael Jelenic, April 5th)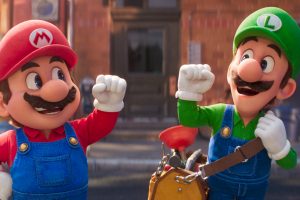 1993's Super Mario Bros was, by most people's reckoning, a cinematic disaster. Despite starring talent like Bob Hoskins and Dennis Hopper, the movie was incoherent, boring, and deeply strange. This new venture promises to be a much more conventional and delightful jaunt through the Mushroom Kingdom. Animation work is being handled by Illumination, and the near-perfect casting includes Jack Black as Bowser and Anya Taylor-Joy as Princess Peach. We're still not quite convinced by Chris Pratt's Mario voice, though.
The Pope's Exorcist (dir. Julius Avery, April 7th)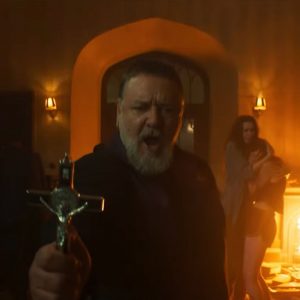 This horror movie stars Russell Crowe as Father Gabriel Amorth, a real-life Catholic priest and exorcist. The movie is based on Amorth's memoirs, which tell of his efforts to perform tens of thousands of exorcisms at the behest of the Church. Franco Nero will play the Pope in the movie, and while it looks like it'll lack the subtlety and pacing of The Exorcist, this should still be an enjoyable watch thanks to Crowe's charisma and the innately interesting nature of the subject matter.
Renfield (dir. Chris McKay, April 14th)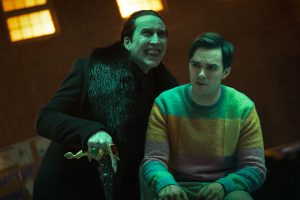 Any movie with Nicolas Cage in it is bound to be at the very least entertaining, so let's hope Renfield brings something enjoyable to the Dracula mythos. The movie stars Nicholas Hoult as the titular Renfield, Dracula's chief servant, while Cage puts in what looks to be a scenery-chewing turn as the legendary vampire himself. Renfield will take a decidedly more comedic turn than previous Universal Dracula movies, and although some of the dialogue seems a little ripe, the movie looks like it'll be good fun.
Assassin Club (dir. Camille Delamarre, April 14th)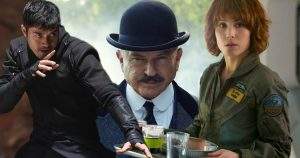 There's surprisingly little buzz around Assassin Club, which surprises us as the movie has a pretty impressive cast including Sam Neill, Henry Golding, and Noomi Rapace. The movie's release date is accurate according to Empire Cinemas, but don't be surprised if you see it moved or delayed. Assassin Club revolves around an assassin who's contracted to kill seven targets, only to learn that those targets have also been hired to kill him. It promises to be an action-packed thrill ride. 
Evil Dead Rise (dir. Lee Cronin, April 21st)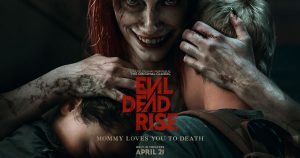 The fifth Evil Dead movie will star Alyssa Sutherland and Lily Sullivan as sisters who must rescue their family from demons. Original Evil Dead director Sam Raimi will be an executive producer on the project, alongside actor Bruce Campbell, so hopefully, the movie will be at least somewhat faithful to the original spirit and tone of the Evil Dead franchise. It looks like a more straightforward horror project akin to the 2013 Evil Dead reboot, rather than a comedy-horror movie like Army of Darkness.
Missing (dirs. Will Merrick and Nick Johnson, April 21st)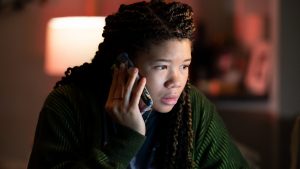 If you saw 2018's Searching and wanted more from that movie's creators, then you'll be happy that Missing is coming in April. The movie revolves around teenager June Allen, who's hoping to find her mother after she goes missing while on holiday in Colombia. The movie is also intended as a followup to the 2020 film Run, so it's clear that Merrick and Johnson are building a sort of cinematic universe with this project. Let's hope this one is successful and that there are more to come.
The Unlikely Pilgrimage of Harold Fry (dir. Hettie Macdonald, April 28th)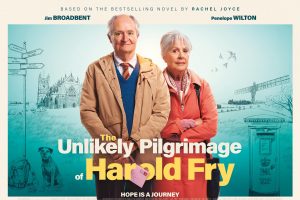 Jim Broadbent is a reliable way to make a movie watchable no matter its quality, so even if this movie doesn't turn out great, it'll be worth it just to watch him strut his stuff. The Unlikely Pilgrimage of Harold Fry is based on the book of the same name, and it revolves around a man who has decided to walk the length of England in order to deliver a message to a dying friend. Expect laughs and emotional pathos alike, as well as game turns from the likes of Penelope Wilton and Linda Bassett.
Polite Society (dir. Nida Manzoor, April 28th)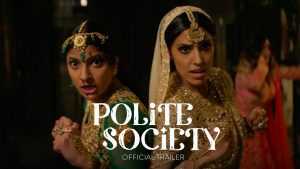 The release date for Polite Society is variously listed as April 7th and April 28th, although we're going by the official Universal listing, which gives April 28th as the date. Either way, Polite Society promises to be an exciting action comedy in which martial artist Ria Khan decides she must rescue her sister from an impending marriage. Misunderstandings and hilarity inevitably ensue in what looks to be a warm-hearted and endearing movie.