Squid Game may be over for now, but it took the world by storm when it was first released. Although the show wasn't quite as popular in its native South Korea as it was elsewhere, it was a global phenomenon, and its iconic aesthetics and characters are now lodged in the memories of everyone who saw it.
With that in mind, you might be thinking of dressing as a character from Squid Game for Halloween, and if you are, then you're probably looking for the best Squid Game Halloween costumes 2022 can provide for you. If that's the case, then you came to the right place. Here are the best Halloween Squid Game costumes out there right now.
Squid Game Novelty Mask – Etsy, £11.99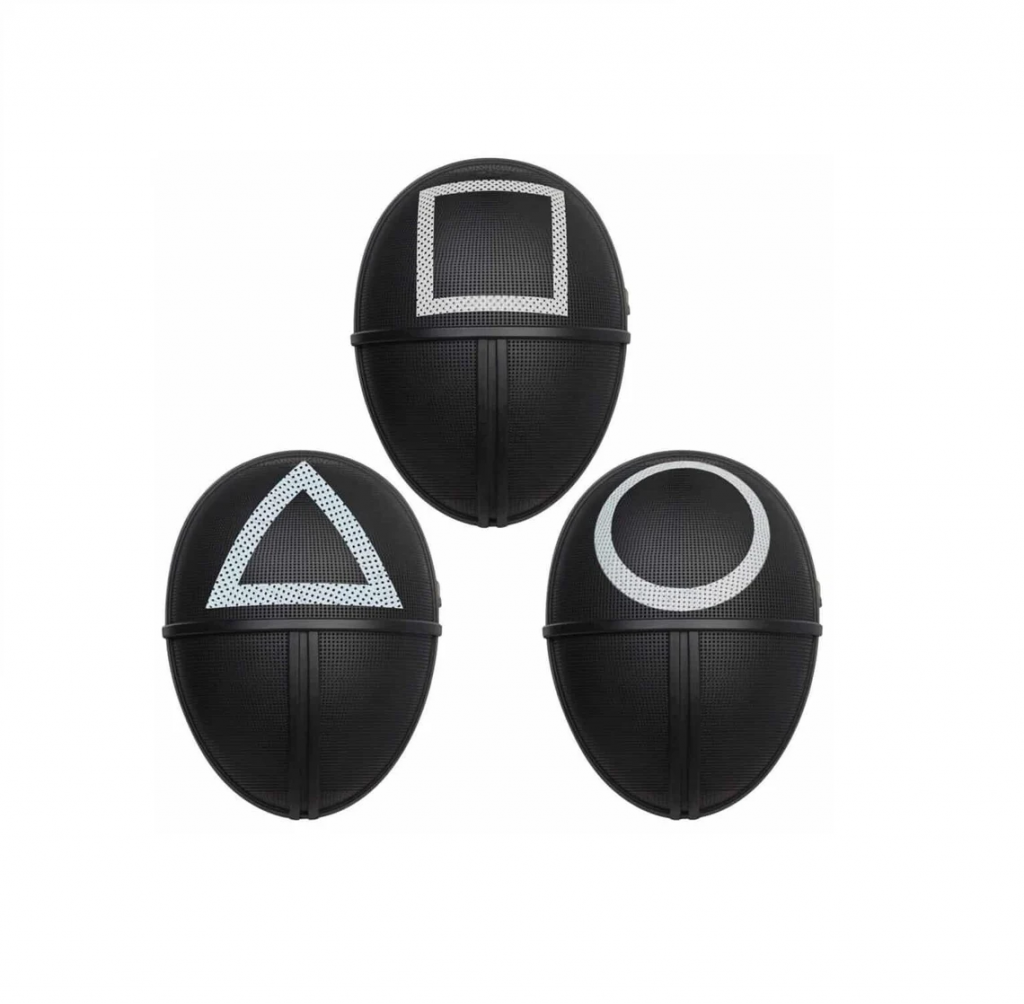 For just £11.99, you can get yourself one of the masks worn by the menacing and imposing Squid Game guards. These masks are essentially repurposed fencing masks with symbols on them denoting which type of guard you're dealing with, so the masks have a square, a triangle, and a circle on them. Each mask costs £11.99 individually, but you can also buy all three of them for a discount, so if you're looking to go with your friends as part of a terrifying Squid Game-themed multi-person costume, then you should definitely opt for all of the masks.
Officially Licensed Squid Game Guard Costume – Amazon, from £31.99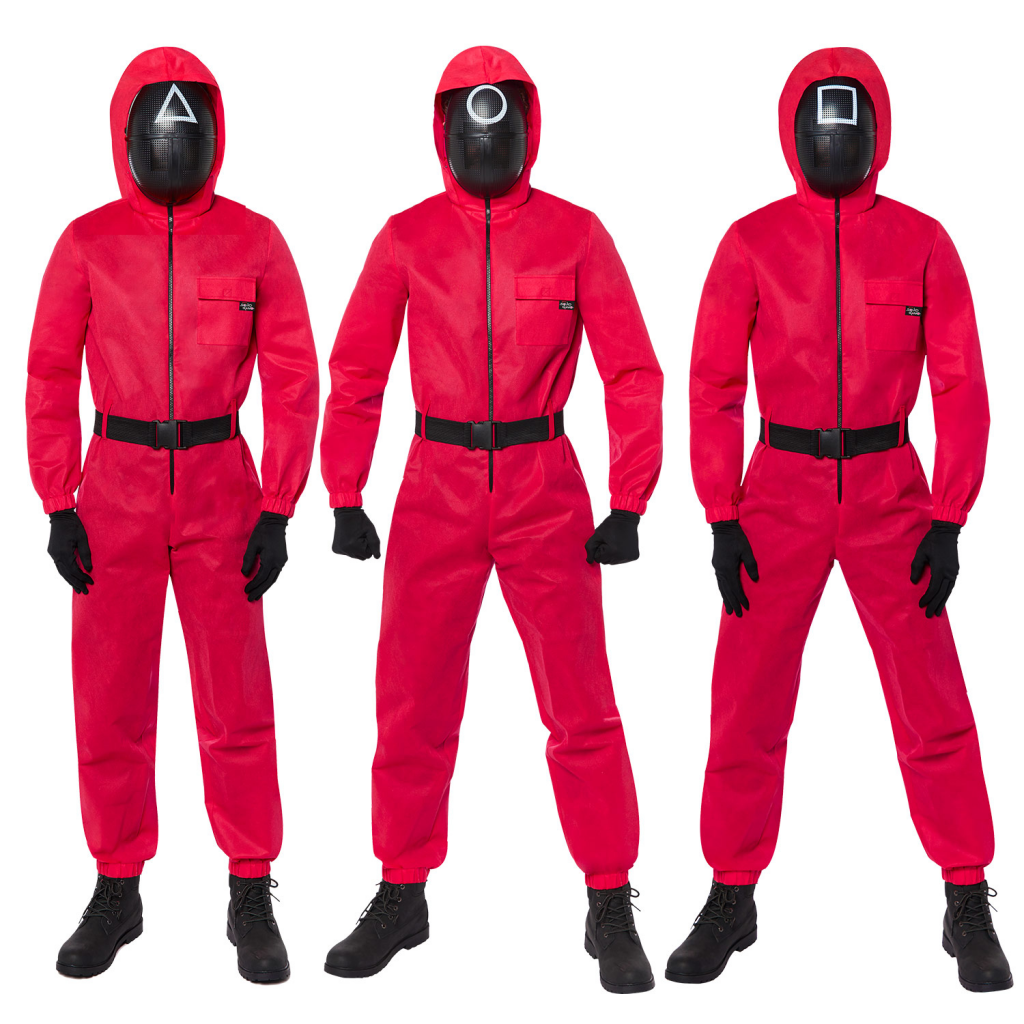 Would you rather dress for the whole shebang rather than just the Squid Game guard mask? If so, then you're definitely going to want to look into these Squid Game guard costumes, which come in sizes from extra-small all the way through to extra-large. The costume consists of a red jumpsuit which zips up at the front, as well as a black belt and pair of gloves. What's more, the costume also comes with the Squid Game masks, so you'll really look the part if you pick one up. Naturally, the £31.99 starting price will go up depending on which size you're buying.
Squid Game Contestant Costume – Amazon, £33.86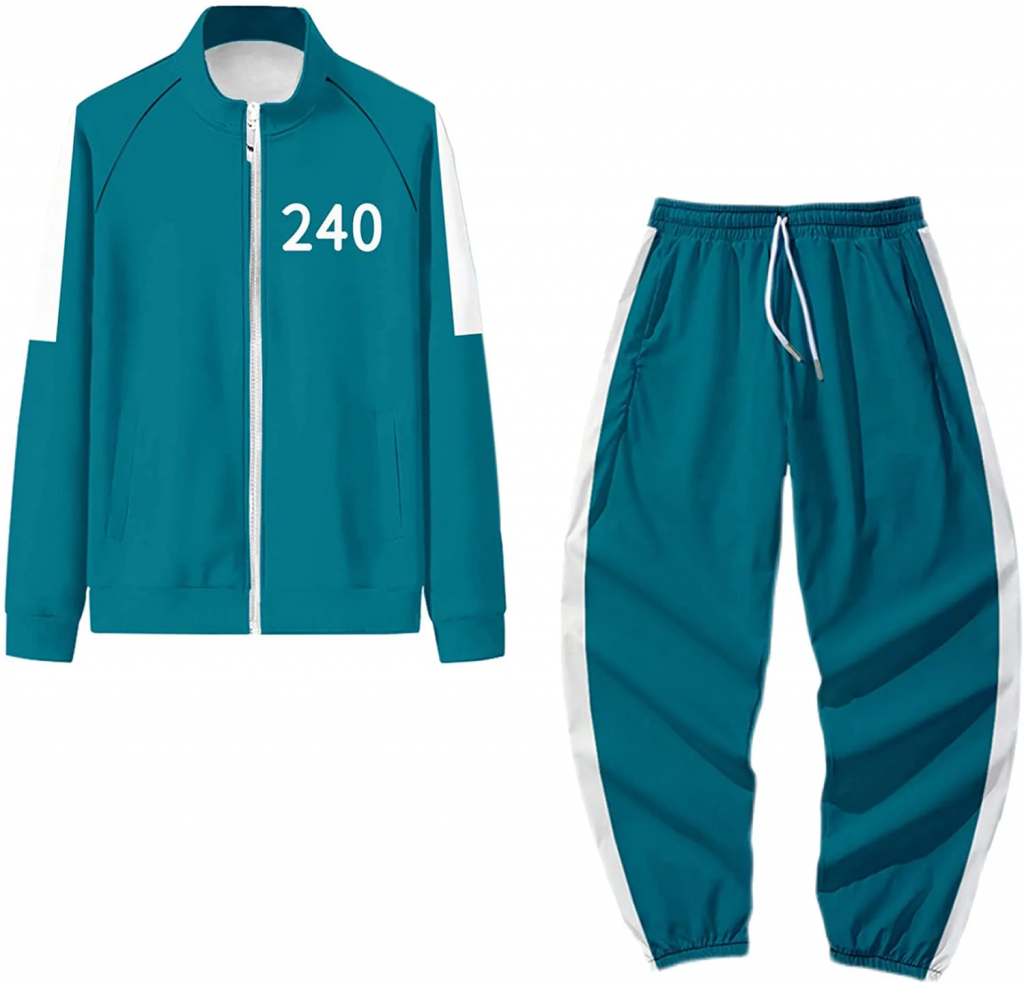 On the other side – quite literally – of the coin, we have this Squid Game contestant costume. It consists of a turquoise tracksuit top with white accents and matching tracksuit bottoms. There's also a rather fetching-looking number on the front of the tracksuit to give you that true Squid Game contestant vibe. It fastens via zipper, and the material is pretty high-quality, so you won't need to worry about it falling apart or being damaged while you're wearing it…that is, unless you're planning to engage in a deadly game where your very life could be at stake, of course.
Squid Game Frontman Mask – Etsy, £21.74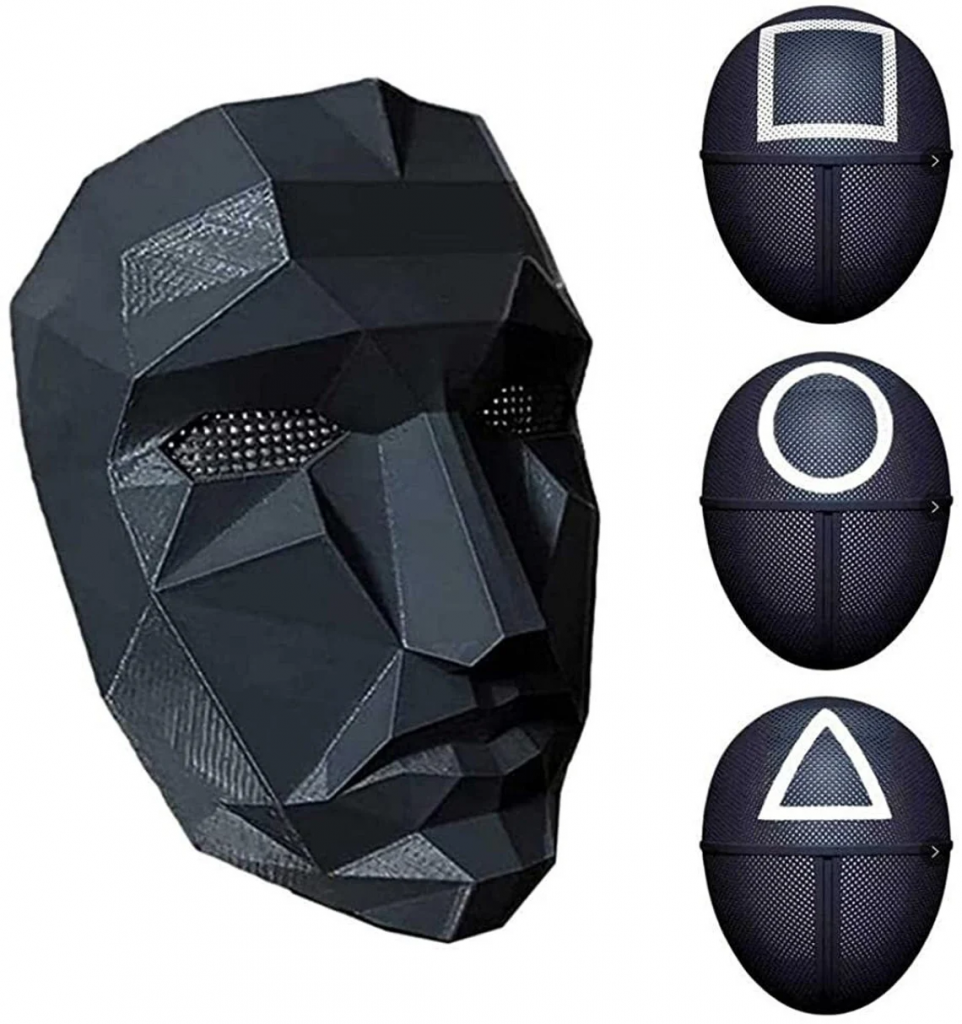 If you've seen Squid Game, then you'll know that there are, broadly speaking, two kinds of mask in the show. The first is the standard guard mask, which we've already discussed, but the second – which is arguably far more intimidating – is that of the mysterious leader. We won't give away the identity of the leader, of course, and if you wear this mask to your Halloween party, neither will you! It's a well-made mask that replicates the angular, impersonal feel of the show's leader mask with aplomb, so if you want to strike the fear of the Squid Game into your friends, pick this mask up.
Squid Game Dog Costume – Etsy, £28.27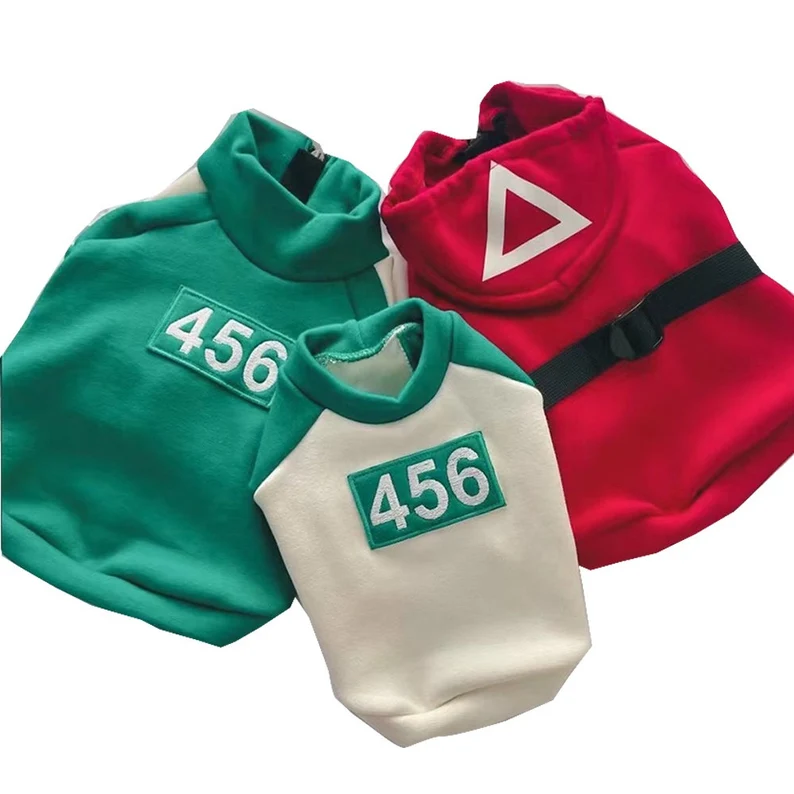 Why not have your furry little friend accompany you to a Halloween party also dressed in a Squid Game costume? This little doggy outfit comes in three different varieties: two tracksuits for the contestants and one for the guards, so you can decide which one your dog would be and dress them in this. The costumes come in different sizes depending on how big your dog is, so make sure you pick the right size up; after all, a dog in a costume several sizes too big trying to look menacing is only going to convince people to pet them. I see your dastardly plan now, little friend!
Squid Game Face Mask – Etsy, £16.76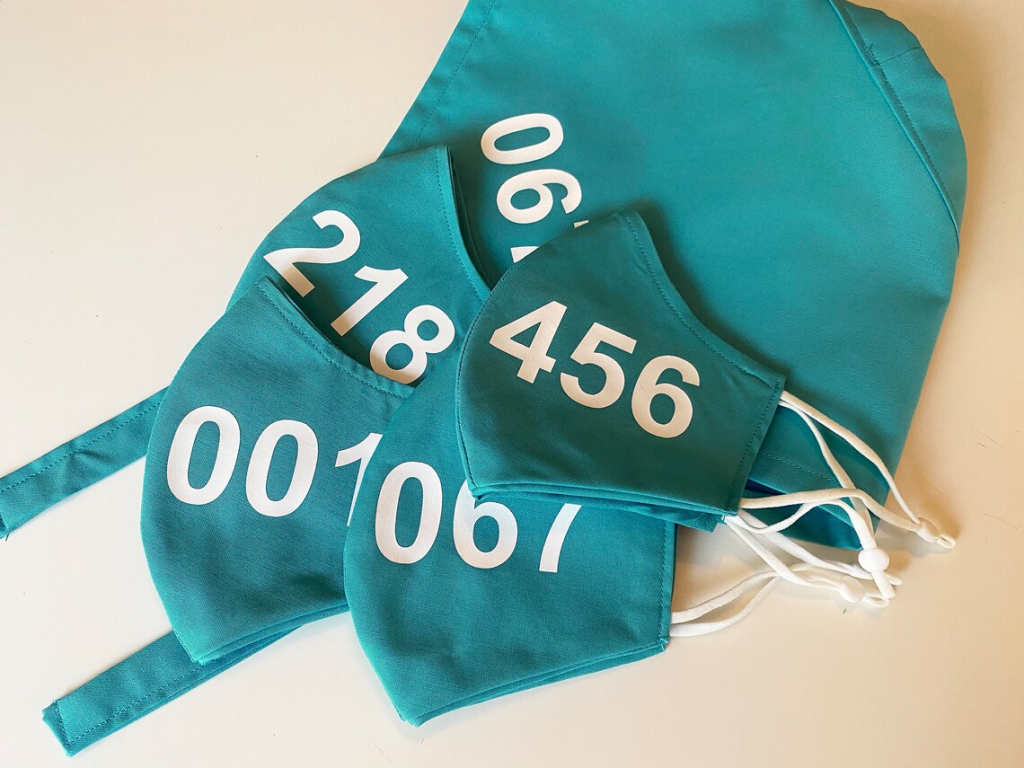 It's worth noting here that this isn't technically a Halloween costume. After all, a face mask isn't particularly scary (although it can certainly be incorporated into a costume that is pretty terrifying). What is scary, though, is the ever-present threat of COVID-19 and other airborne diseases, which haven't gone away just because some governments have started turning their back. This Squid Game face mask is the perfect way to keep yourself safe and sound at whatever Halloween gathering you find yourself at, and it's emblazoned with a number in the style of the show as well!
Squid Game Red Light Green Light Baby Mask – Etsy, £11.99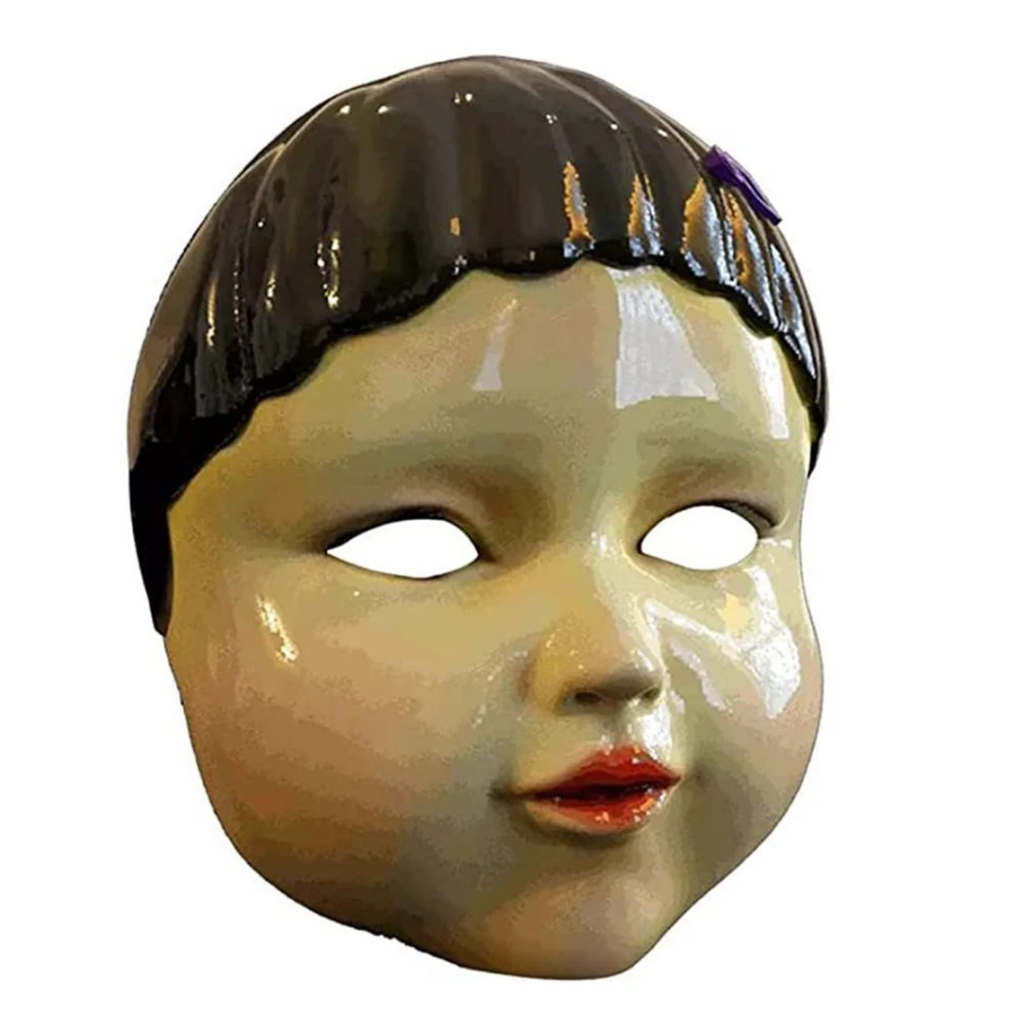 Last but not least, we have the mask worn by the guard character during the Red Light, Green Light segment. Children are terrifying in horror settings, as we all know, and while Squid Game is more of a grisly thriller than an out-and-out horror experience, this baby mask still gave us nightmares anyway. It's got a sort of traditional Eastern vibe to it, so even if your guests or fellow party-goers don't know what Squid Game is, this mask should still manage to unsettle them. If they do get it, then that's just going to be all the more terrifying for them, so it's a win-win situation!