The Wild West is a perennially popular fantasy for kids. While it may be true that the real Wild West was nowhere near as romantic as movies, TV shows, and video games may suggest, the fact is that there's an undeniable appeal to being a lone frontiersperson, wandering the deserts atop your trusty steed. To that end, kids often play games pretending to be cowboys, cowgirls, or cowpeople, and if they want to do so with absolute immersion, they're going to need the right toys.
It can be difficult to find great cowboy toys for kids, though, even if you look as hard as you possibly can. The best cowboy toys are well-made, suggestive of Wild West glamour and romance, and sufficiently indistinct from real weapons to make kids think they're actually using six-shooters to fight off the evil sheriff and rescue the townsfolk. These toys can be hard to track down, so here, we've gathered the best cowboy toys for kids that we could find.
Smyths Toys Wild West Cowboy Rifle and Pistol Playset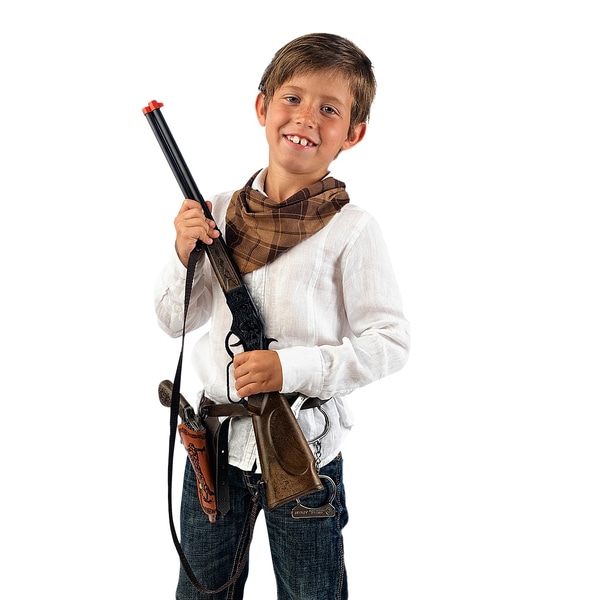 If you really want to feel like a cowboy in the Wild West, then there are few better options than this set of rootin' tootin' weapons from Smyths Toys. These cowboy toys don't just consist of the two guns; in the pack, you get a rifle, a pistol, a gun holster, a shiny sheriff's badge and a pair of handcuffs for locking up no-good varmints. Smyths is a household name in toys, so you know you can rely on them to create high-quality goods, and that's exactly what we have here. Even though these are ostensibly cowboy toys for kids, be sure not to give them to under-3s, as they might choke on some of the smaller parts.
Wicked Costumes Wild West Fancy Dress Outfit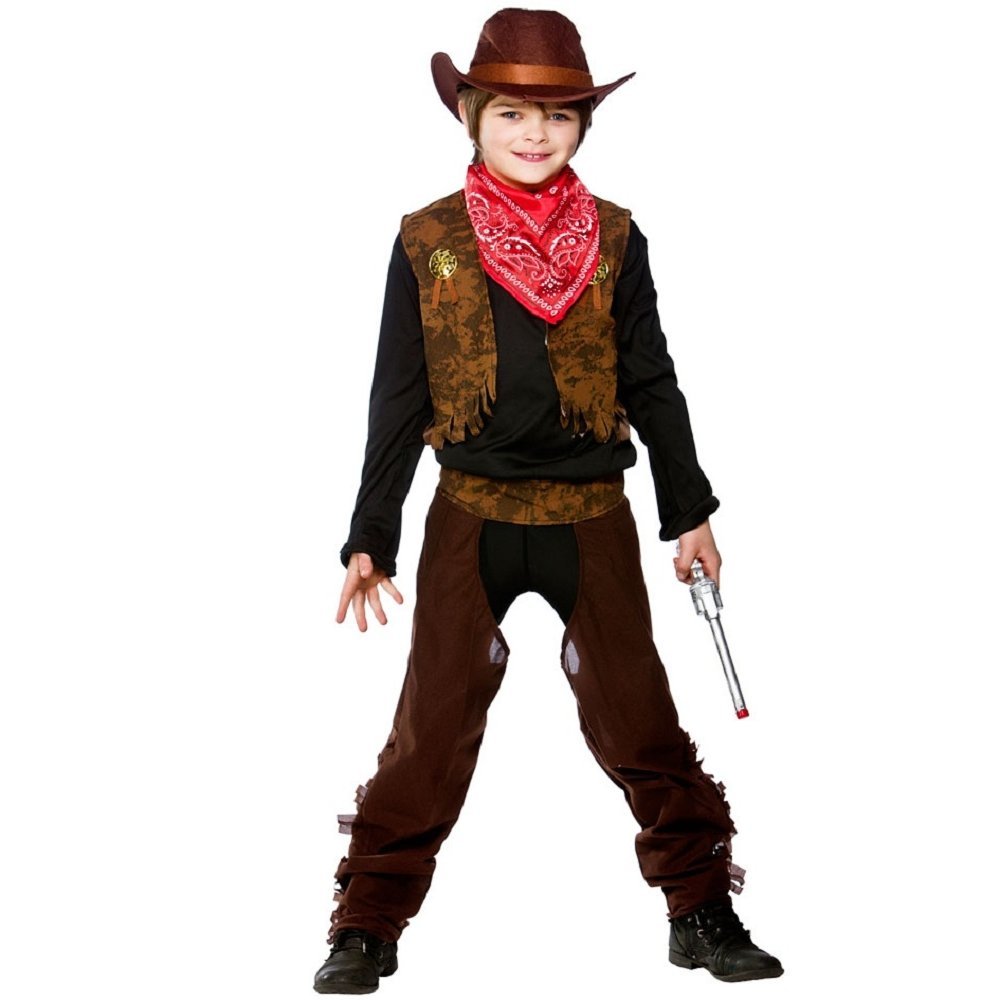 What better way to truly immerse yourself in Wild West culture than to dress as a cowboy? This outfit contains everything you could possibly need in order to become a cowboy of the Old West; it comes complete with a cowboy waistcoat, a pair of chaps, a bandanna for your neck, and a ten-gallon hat to complete the look. Technically, these aren't really cowboy toys; they're more accessories to help your kids feel truly like Old West pioneers. However, this costume goes great with a prop revolver or rifle, and for extra effect, why not pair it with a hobby horse?
Breyer Classics West Horse Rider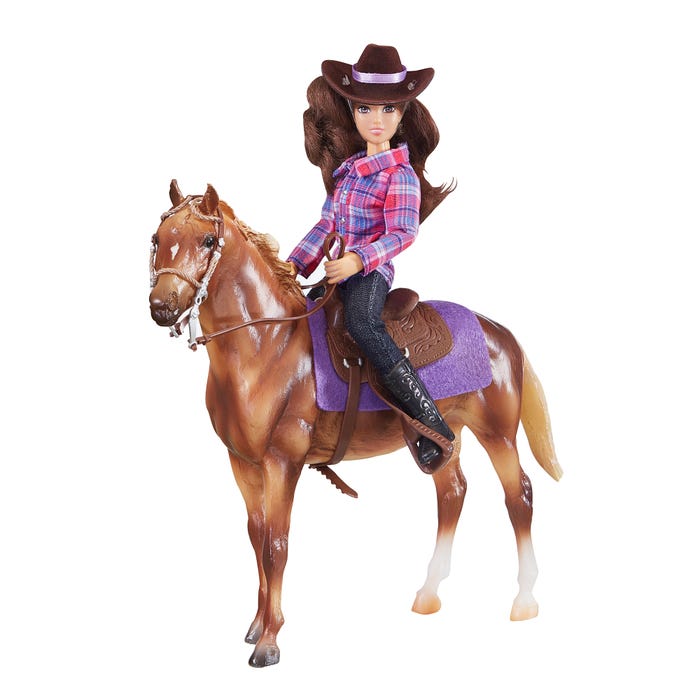 This is a classic doll with an old-school Barbie-style aesthetic, so if that's the kind of look your child loves, then this is a must-buy. Of all the cowboy toys out there, this one has one of the most well-considered, carefully-crafted builds we've seen. It's a beautiful doll, and while it may not quite have the posing options you'd like from something like this, it's perfect as an introduction for your child to the wild and wonderful world of cowboy play. This doll can be anyone or anything you want her to be; is she a ranch-hand caring for the animals, or a fearless cowgirl taming the Wild West all on her lonesome? It's totally up to you!
Shadows of Brimstone Hero Pack: Cowboy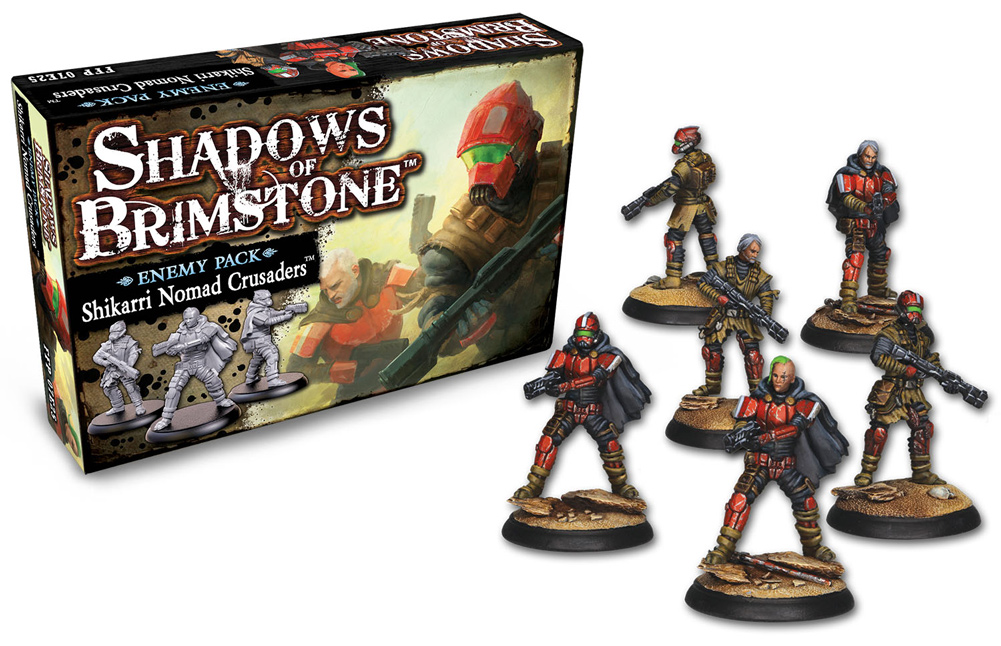 Do you want to get your kids into the joys of tabletop role-playing? The Shadows of Brimstone Cowboy Pack may well be for you. It contains two highly detailed cowboy miniatures, as well as a cowboy character sheet and rule sheet for the Shadows of Brimstone tabletop role-playing game. You'll also find an upgrade chart, some starting upgrade cards, and some starting gear for your cowboy character. This is the perfect way to introduce kids to the high-octane, fast-paced world of Shadows of Brimstone, but remember: this isn't a TTRPG for the faint of heart. Make sure your kids are at least 12 years of age if you're introducing them to this system.
Smyths Toys Wild West Electronic Playset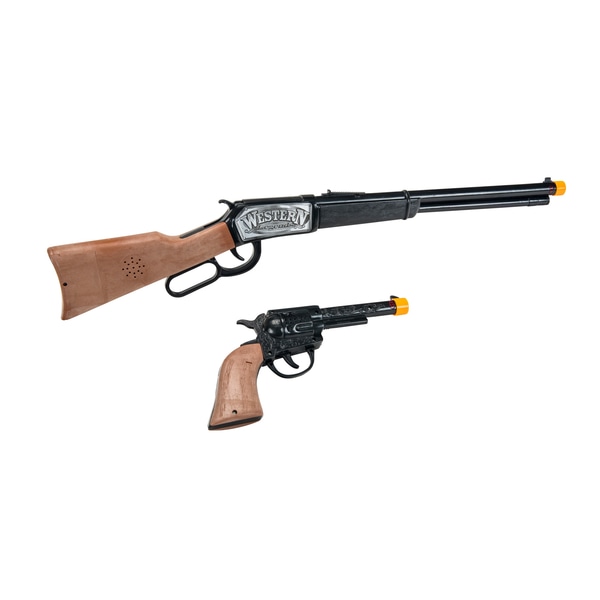 We're back in the wonderful world of Smyths once again for this electronic playset option. Consisting of a rifle and a pistol, what really makes these toys special is their electronic functionality. The rifle has a bullet eject lever that you'll be able to pull in order to trigger a bullet sound, and it also features a ricochet-style Wild West gunshot effect as well. The revolver is decidedly more homespun, but it'll make perfect backup for any cowboy or cowgirl who finds themselves in a jam and needs a faithful weapon to rely on. Make sure that you buy some batteries if you're picking these up, because there's nothing more disappointing than suddenly running low.
Music Alley ½ Size Classical Acoustic Guitar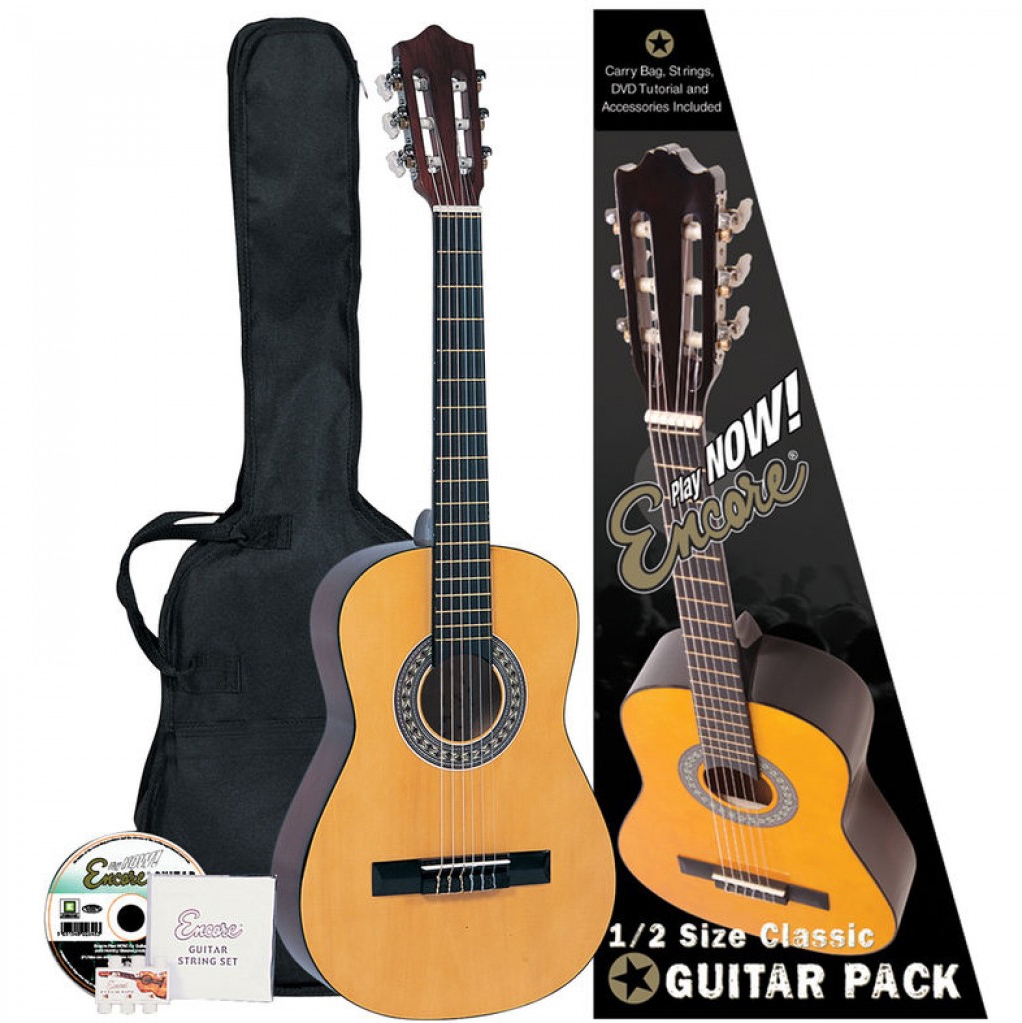 Coming courtesy of Argos, here's an essential staple for any cowboy's lonely journey across the desert. Many of the greatest cowboy trail songs and ballads can't be played on any other instrument besides a guitar, but a steel-string option might be a little too painful for small hands. That's where a nylon-string guitar like this one comes in handy; you can teach your kids a brand new musical instrument, all while they get to live out their cool cowboy fantasy. Here's a tip from us: teach them the chords A minor, G major, and D major. These are great cowboy chords, and they're not too difficult for kids to learn, either – perfect for their first rodeo into the world of music!
These are some of our favourite cowboy toys for kids out there. Which ones did we miss? Do you have favourites you go back to? Let us know!