There's something truly special about glow in the dark toys.
These little bundles of fun may not be particularly complex, and they may not have built-in screens or Wi-Fi, but just switching off the lights and watching as they illuminate the space around them is a special experience in and of itself.
Of course, as the holiday season approaches, you might be looking for some great glow in the dark toys to buy for your kids, or perhaps you're just looking to get some for yourself – no judgement here!
Whatever your reason might be, you'll find lots of different toys out there that come to life when the lights are off, so without further ado, let's take a look at the best glow in the dark toys you can buy right now.
Over at Smyths Toys, this collection of glow in the dark toys from Hot Wheels should provide hours of entertainment for your little ones.
Ten vehicles are included in the collection, with five monster trucks and five souped-up sports cars for your kids to enjoy.
These glow in the dark toys are perhaps best enjoyed with existing Hot Wheels tracks, but if you don't have those, you can always transform the space around you into an impromptu Hot Wheels course!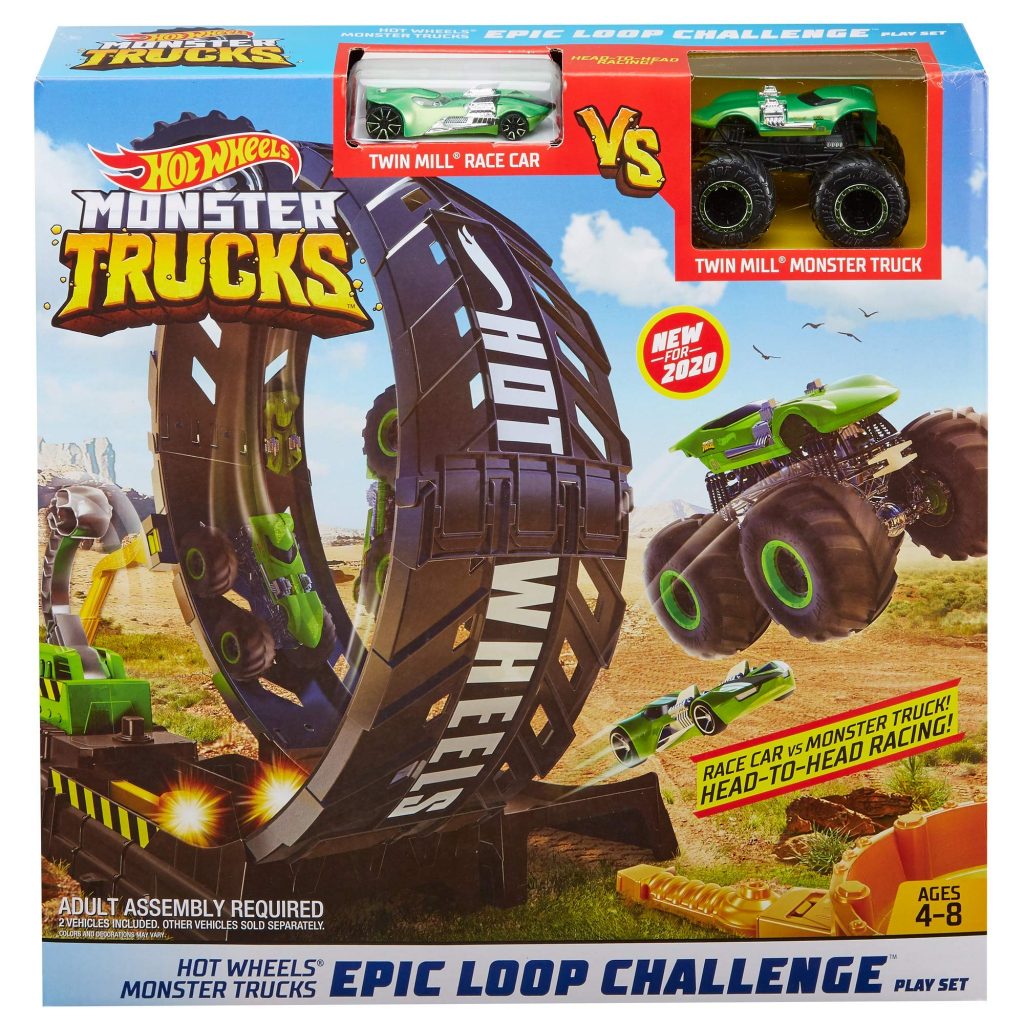 If you do want to accompany the aforementioned vehicle collection with a track playset, then you could do a lot worse than this Epic Loop set, which also happens to be one of the glow in the dark toys we heartily recommend.
The set comes with a full loop-de-loop, which you can watch your vehicles surmount time and time again with awe, as well as two vehicles.
While it's true that there's not a great deal on offer in this set, it's still great fun for kids of all ages, and if your kids are building a Hot Wheels collection, it'll make a very handsome centrepiece indeed.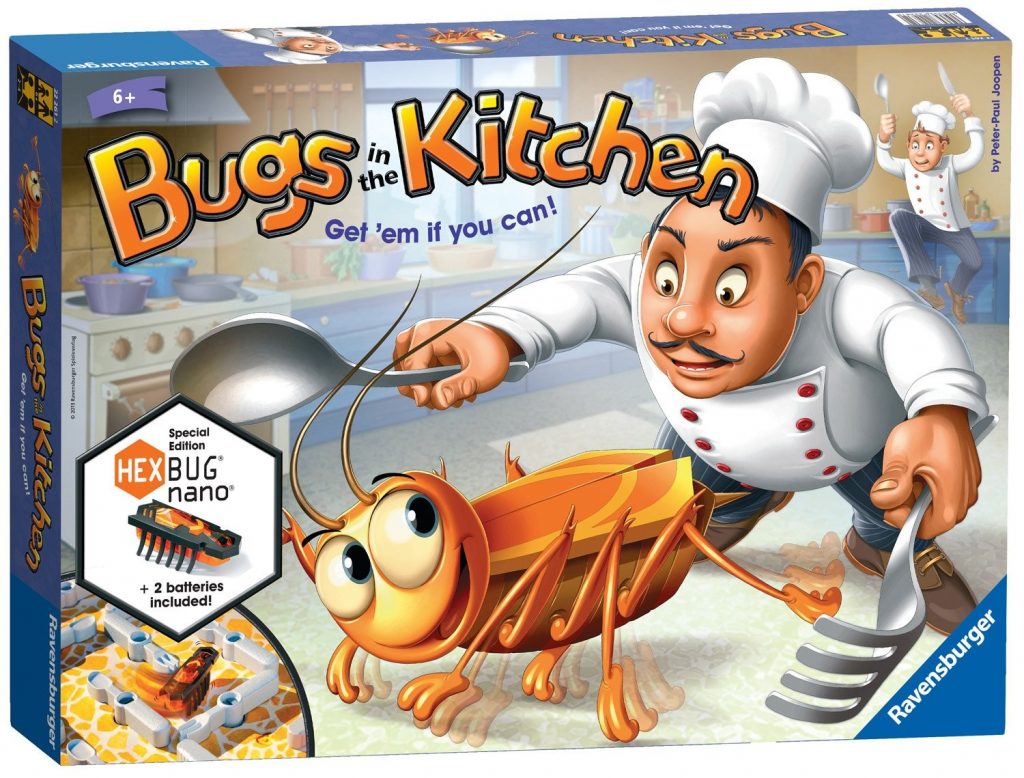 In this game from Ravensburger, which is, in our opinion, one of the best glow in the dark toys you can get right now, your goal is to catch the scuttling glow in the dark cockroach as it moves about the board.
Don't worry; it's not a real cockroach! You'll still have to trap it, though, because it's fast, and it's surprisingly smart for a bug as well. To do that, you'll have to turn cutlery to cut off its escape routes.
The game is great for anyone aged 5 and over, and it supports up to 4 players, so switch off the lights and get ready to enjoy a fast-paced game of bug-catching.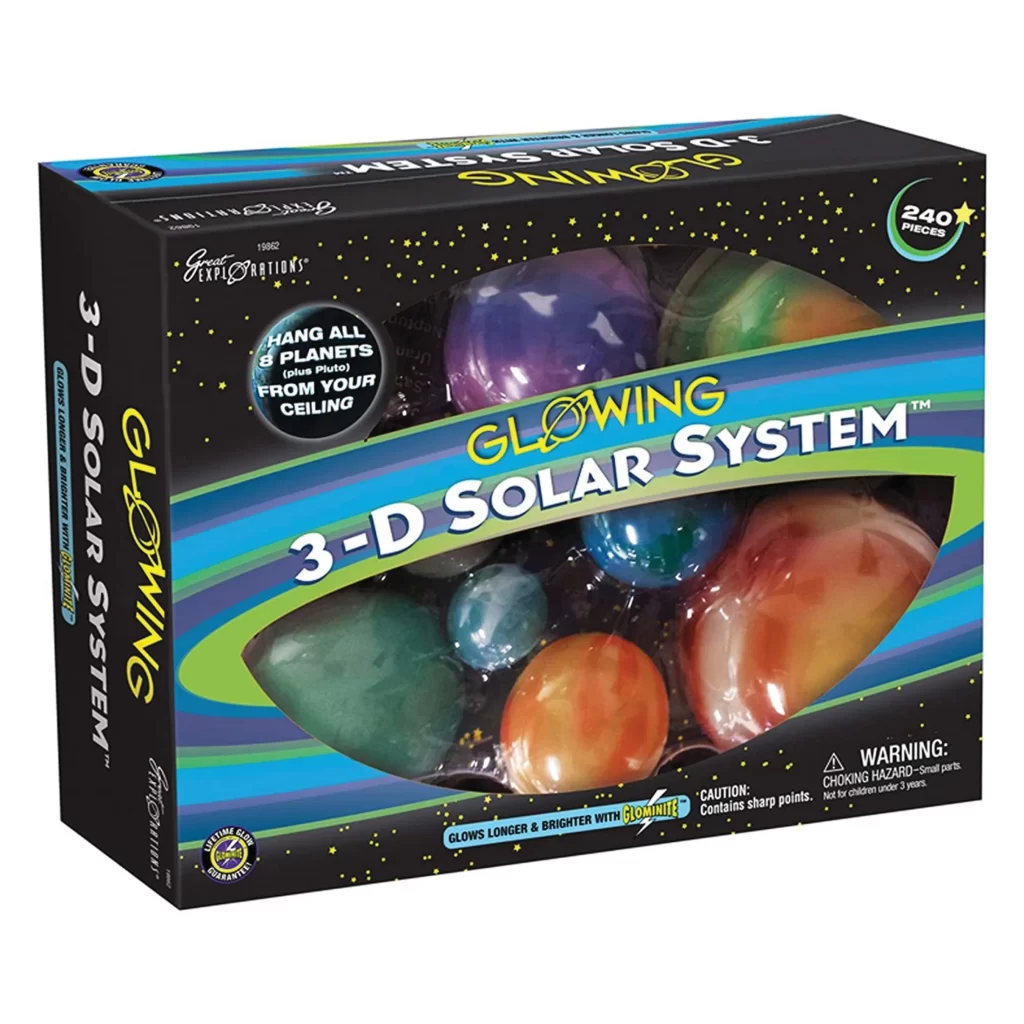 Nobody said toys couldn't be educational as well as entertaining, right? This is one of those glow in the dark toys that will actually teach your kids something, so it's well worth having around the house.
As you've probably guessed from the name, this model from Great Explorations represents the solar system in all its glory, teaching you all about the planets that orbit our Sun.
This set does also include Pluto, so if you were upset that the little celestial body was reclassified away from being a planet a few years ago, then this is your chance to set the record straight!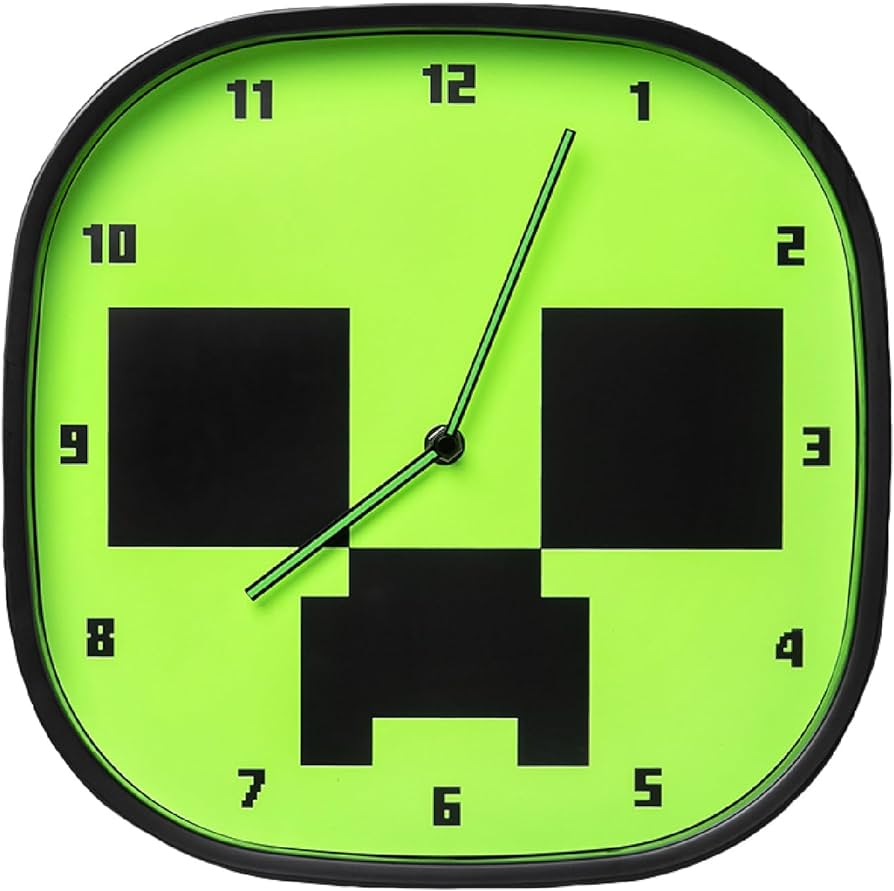 Okay, so this one isn't technically a toy per se, but if your kids are fans of Minecraft (and statistically speaking, there's a good chance they are), then they'll love this glow in the dark clock.
It's got the face of one of Minecraft's spooky Creepers on it, as well as several other symbols inspired by the popular sandbox creativity game, and it glows in the dark, so you'll always know what time it is.
There's no better way to get a child up for school than to confront them with a Minecraft Creeper, so if your kid is crazy about Minecraft, this will make a great gift!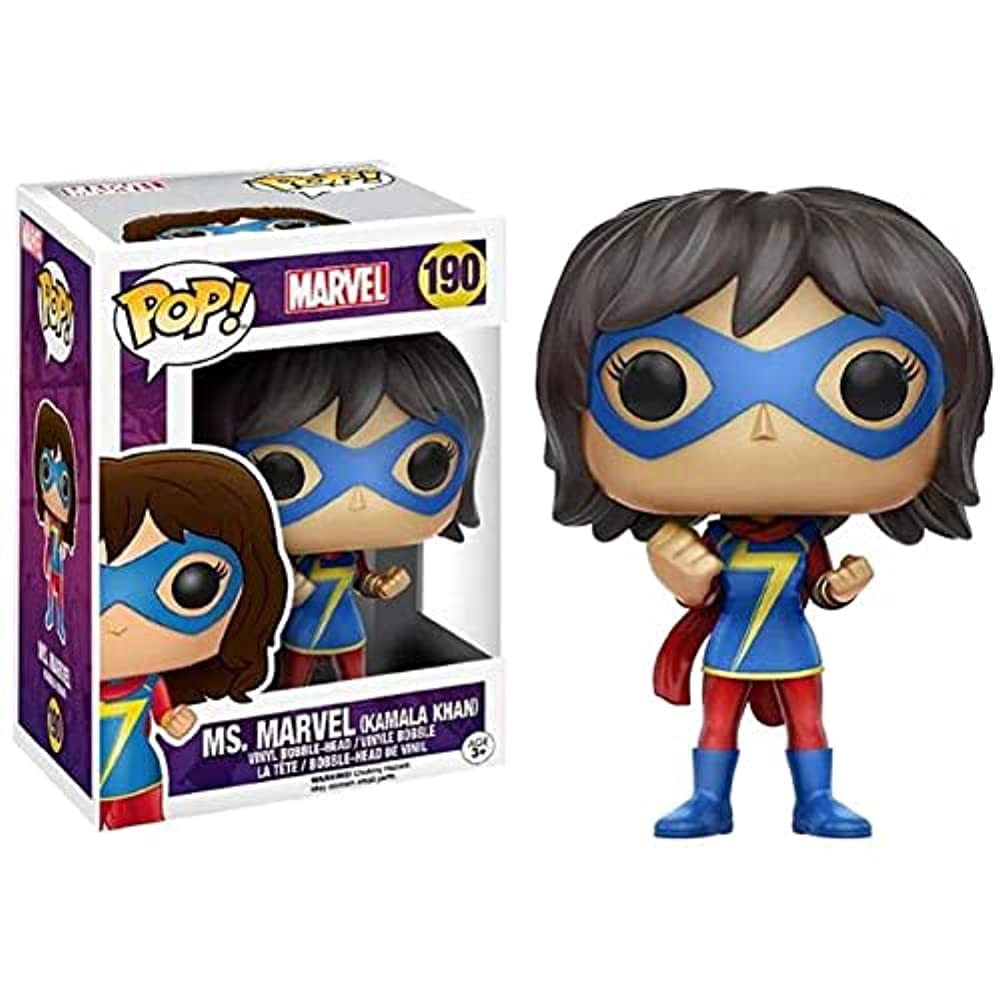 Your mileage may vary on Funko Pops, but they're usually a pretty solid gift to get for anyone who's even slightly inclined towards the geekier side of life.
This figure depicts Ms. Marvel from the upcoming (at time of writing) movie The Marvels, making it ideal for any young woman who needs a strong female idol in their lives.
Funko Pops are fairly unobtrusive in terms of size and shape, so they can be displayed pretty much anywhere in your child's room, and there are tons of them to collect, so if your child likes this one, they'll love the rest too!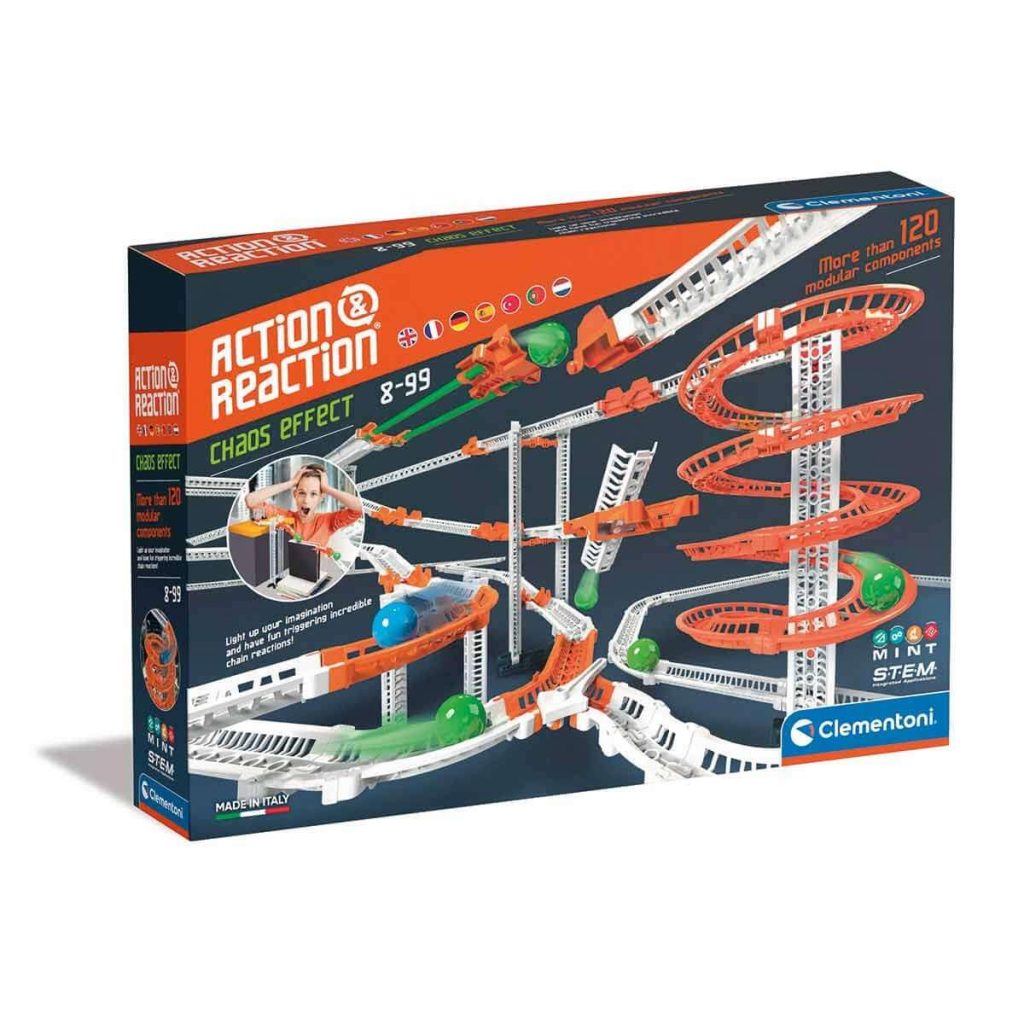 No matter how many technological advances we see in our lifetime, the humble marble run will always be a toy that's worth returning to time and time again, and this one even glows in the dark!
This marble run from Action & Reaction will provide hours of entertainment for your child (or you – again, no shame here) as they watch marbles descend and cascade down railings and pathways over and over again.
Since the marbles glow in the dark, you can set this up during the winter (or during a particularly sleepless night) as well, and the included manual will help children who don't have much experience with marble runs to get started.
FAQs
What age range are these glow in the dark toys suitable for? The toys listed have a wide range of appeal, with some being suitable for children as young as 5 years old, like Bugs in the Kitchen, while others might appeal to older kids and even adults who have a fondness for nostalgic toys or items like the Funko Pop! figures.
Do these toys require any additional accessories to work? Some of the toys, like the Hot Wheels Glow In The Dark Collection, can be enjoyed on their own or with additional tracks for a more immersive play experience. The Great Explorations Glow In The Dark Solar System is a standalone educational tool. Check individual product specifications for more details.
Are the toys educational as well as entertaining? Yes, some of the toys offer educational value. For instance, the Great Explorations Glow In The Dark Solar System is not only fun to play with but also teaches about the solar system.
Can these toys be enjoyed in group settings or parties? Certainly! Games like Bugs in the Kitchen can support up to 4 players, making them perfect for family game nights or small gatherings.
Is it necessary to have a dark environment to enjoy these toys? While glow in the dark features are best enjoyed in a dark environment, many of these toys are just as enjoyable with the lights on.
How long do the glow in the dark features last? The duration of the glow can vary based on the material and how long it is exposed to light before being placed in the dark. It's recommended to expose these toys to light for some time to get the maximum glow effect.
Conclusion
Glow in the dark toys have a timeless charm that transcends age and technological trends. As we've explored, there is a variety of options available that cater to different interests and age groups. Whether it's for educational purposes, creative play, or simply to enjoy the novelty of glowing items in the dark, these toys promise to deliver joy and wonder. From action-packed Hot Wheels tracks and educational solar systems to spooky Minecraft clocks and engaging marble runs, there's something for everyone. So, as the days shorten and the nights grow longer, consider brightening up the dark with one of these luminous treasures that are sure to shine in more ways than one.