Sometimes, you don't want to engage with high-octane shooting or action of any kind in a video game. At times, all you want to do is relax and run your very own establishment, whether that be a farm, a restaurant, or a coffee shop. Luckily, a new game is on the way that is aiming to allow you to do just that. Espresso Tycoon is, as you might imagine, a new spin on the old-school style of tycoon sims, and it'll task you with opening, managing, and growing your very own coffee shop business.
You'll need to cater to the whims of guests, figure out what the best decisions are for making your shop better, and deal with problems as they arise. You'll also need to take care of marketing your coffee shop and managing the supply chain, so this is a serious tycoon sim; there's no casual gaming to be had here! Nevertheless, Espresso Tycoon is aiming to be a relaxing, cosy type of game, so make sure to wishlist it on Steam if it looks like you'd enjoy it. Here's our rundown of everything you can expect from Espresso Tycoon!
Is there an Espresso Tycoon release date yet?
The game is expected to land May 2023. The game's Steam page encourages you to "wishlist now" and offers a free prologue demo, allowing you to try the game out before release. The demo allows you to manage a coffee shop underwater, which is a neat little twist on the core gameplay, and will be completely free whether or not you're playing Espresso Tycoon as well.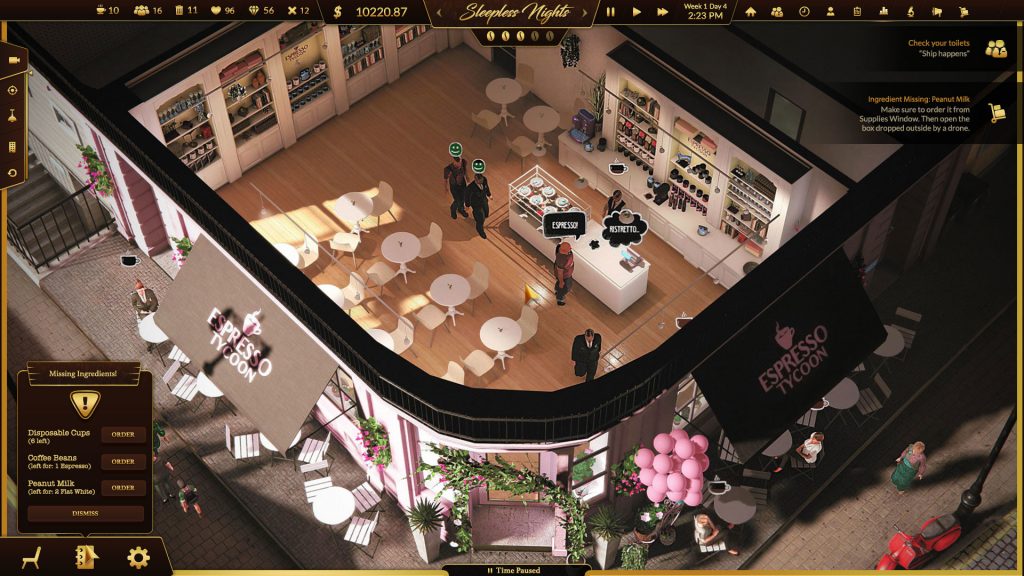 What is the Espresso Tycoon story like?
Right now, from what we've seen of Espresso Tycoon, its story looks to be a fairly light touch. Unlike other upcoming sims like Park Beyond, this one isn't particularly focusing on its story; rather, it's trying to tell the tale of a humble coffee shop manager who rose up from nothing in order to become the premier coffee establishment owner in the world. As such, you likely shouldn't expect constant interruptions from story cutscenes or characters telling you what to do. This seems to be very much a management sim first and a story-based game a distant…well, we'll have to find out!
Is there an Espresso Tycoon trailer?
Espresso Tycoon was originally announced all the way back in March last year, which means we've been waiting for it for quite some time now! When it was announced, it was accompanied by a launch trailer, which showed off its visuals and some of the gameplay you can expect from it. That trailer can be viewed right here.
Heading over to publisher PlayWay's channel on YouTube also shows that there are a ton of devlogs and other smaller trailers for Espresso Tycoon, so if you want to see how development is going on this game, we'd definitely recommend checking those videos out. The game development process can be a fascinating one, after all, and if you're in any way interested in Espresso Tycoon, then finding out how the sausage (er, coffee?) is made should be a priority for you!
What will Espresso Tycoon gameplay be like?
In terms of management systems, Espresso Tycoon looks like it will have plenty for you to get on with. You'll very much be the boss of your coffee shop, so it'll be up to you to decorate it however you like and make sure it looks snazzy. You'll also be in charge of the hiring process, of course, as well as monitoring the supply chain and making sure you've got enough money for everything you want to do. 
Marketing your shop is also within your remit; you'll need to advertise the coffee shop and ensure customers know where to find you. Said customers must also be kept happy, so if they have needs or problems, you'll need to deal with them quickly before things get out of hand. 
Excitingly, there's something PlayWay is calling a "3D coffee editor", which allows you to make coffee recipes and serve them to your guests in 3D. You can sprinkle things on top of the coffee once you've made it and add other adornments as well, making for the chance to add some serious creative flair to your creations.
PlayWay is promising that when Espresso Tycoon launches, it will appeal to fans of games like Rollercoaster Tycoon, Planet Coaster, and Pizza Connection. It sounds like this one should definitely be on your list if you're looking for a new sim game to while away the hours. Just don't blame PlayWay if you end up just as addicted to this game as you are to caffeine!
Is there an Espresso Tycoon console version?
Sadly, right now, it looks like Espresso Tycoon is only coming to PC via Steam. However, PlayWay will likely be monitoring their game to see if an Espresso Tycoon PS5 or Xbox Series X|S version is on the cards. At the moment, you're going to have to download Steam if you want to play this one, but hopefully we will see console versions for the game in the future.