The Dragon Age series began back in 2009 with the release of the hotly-anticipated Dragon Age: Origins. Seen as BioWare's return to the classic RPG, Dragon Age introduced a grim world of morally grey choices and grounded fantasy, spawning a whole new legion of fans as it did so.
The followup, Dragon Age 2, was less well-received, largely due to a general perception that it had been rushed. Environments were recycled, the scope of the plot was significantly reduced, and while the game certainly had its moments, the general consensus seems to be that it's inferior to Origins.
The last Dragon Age game to be released thus far is 2014's Awakening, a much more streamlined take on the formula. However, a new instalment has been announced in the form of Dragon Age: Dreadwolf, and it's been through a fair few iterations before arriving at its current state. Here's everything we know about Dragon Age: Dreadwolf.
Is there a Dragon Age: Dreadwolf release date yet?
Unfortunately, there's no Dragon Age: Dreadwolf release date to speak of as yet. The game is currently still in development, and since both EA and BioWare are remaining tight-lipped as to the current state of development, we don't really know how far along it is. It looks like you're going to be waiting a good while for more news on when you can play Dragon Age: Dreadwolf, so if you were hoping for an imminent release date or even release window announcement, you're out of luck.
Dragon Age: Dreadwolf platforms – what can you play it on?
When Dragon Age: Dreadwolf releases, it'll likely arrive on PlayStation 5, Xbox Series X/S, and PC. Again, we're largely going on assumptions here; EA and BioWare have been drip-feeding information about the game incredibly slowly, so we don't actually know what platforms it's in development for. However, if we had to take a guess, we'd say those are the most likely places you'll be able to play it. PS4 and Xbox One releases don't seem likely for the game right now, sadly.
Dragon Age: Dreadwolf trailer – is there one?
Technically, no "Dragon Age: Dreadwolf trailer" has actually been released. However, we do have two very basic teaser trailers, neither of which actually reveals much about the game. The first was released during the 2018 Game Awards ceremony and simply depicts what would eventually become the logo for the game, while the second is a little more detailed, featuring a voiceover from everyone's favourite duplicitous dwarf Varric. Here's hoping that BioWare and EA release more Dragon Age: Dreadwolf trailers soon!
Dragon Age: Dreadwolf history – what's the production process been like?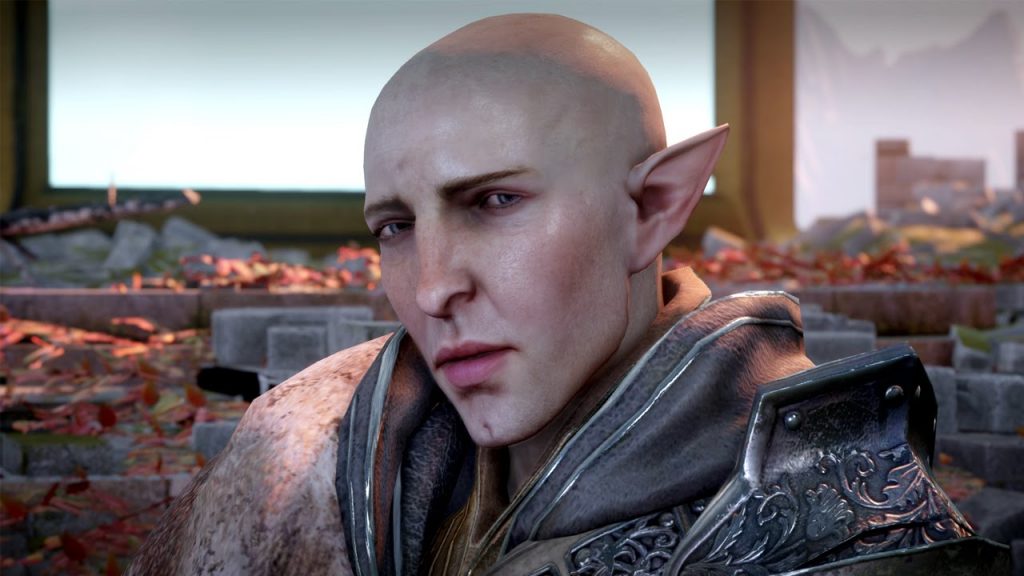 According to Jason Schreier (who was then writing for Kotaku), development on Dragon Age 4 began in 2015, shortly after the Dragon Age: Inquisition DLC Trespasser was released. Codenamed "Joplin", it was quickly put on the backburner after development problems emerged with two other BioWare projects, namely Mass Effect Andromeda and Anthem. Both of those games were plagued by production issues and both were released to lukewarm reviews and fan impressions, leading many to believe that BioWare was in trouble.
Reports suggest that "Joplin" was internally cancelled due to its inability to support live-service elements, on which EA is particularly keen. Development of a new project, "Morrison" (many BioWare projects are named after famous musicians; Anthem's initial codename was "Dylan"), began, and this was apparently a new take on Dragon Age 4 that would support microtransactions and live-service elements. However, following the failure of Anthem and the controversy surrounding Star Wars Battlefront II, EA reportedly killed the live-service parts of "Morrison" and decided to take it in a single-player direction.
Dragon Age: Dreadwolf, along with the many projects it has been in the past, has also suffered from changes in staff. Various staffers, including Mike Laidlaw, Marc Darrah, and Christian Dailey, have apparently departed BioWare during the development of Dragon Age 4. However, BioWare and EA subsequently confirmed that Darrah has returned as a consultant for Dragon Age: Dreadwolf and that the game is also being worked on by Mass Effect staffers.
The official name of Dragon Age: Dreadwolf was unveiled on June 2nd, 2022, along with a brief synopsis for the plot of the game. The Dread Wolf of the title refers to the elven mage Solas, who will presumably play the role of the game's main antagonist. However, beyond that, EA and BioWare are keeping their cards close to their chests when it comes to narrative elements. We can only guess at what kind of story Dreadwolf will tell when it does finally see the light of day.
As for what kind of game Dragon Age: Dreadwolf is, reports on that are pretty few and far between as well. We haven't had any kind of official gameplay reveal on the part of EA or BioWare yet, so we're restricted to leaks and rumours. The most prominent of these is a story reported on by Kotaku in February 2023, in which the website points to potential leaks suggesting Dragon Age: Dreadwolf will be a more God of War-inspired hack-and-slash game than its predecessors.
Of course, these leaks should be taken with a pinch of salt, but given that the industry as a whole has been moving towards the God of War (2018) paradigm when it comes to linear single-player adventures, it would make sense for Dreadwolf to be taking this direction as well. This choice is likely to anger longtime fans who would prefer more classic RPG gameplay, but we'll have to wait and see what EA and BioWare reveal (if anything) in the coming months.